Lumberton Testbed#
NC Buildings and Infrastructure Flood Damage Analysis
1. Background#
Lumberton is a small culturally diverse city with a population of 21,542 according to the most recent United States census estimates. This population mainly settled on the banks of the Lumber River and most of the households are low-medium income with an average $31,899 gross annual income with 39.0% White, 36.7% African American, 12.7% Native American (the Lumbee Tribe), and 6.7% Hispanic/Latino. The below figure shows the physical boundaries of Lumberton with respect to the location of the state of North Carolina and Robeson County. Buildings locations within the city are shown by the dots of various colors in addition to other collected physical infrastructure. This testbed was created to:
Laverage the on-going Lumberton longitudinal field study and provide numerical support with models and insightful predections.

Investigate the impact of flooding on buildings and infrastructure.

Evaluate a number of mitigation strategies and their impacts on flood damage/loss at the building- and community-level.

Evaluate hybrid metrics of community resilience, such as those that require coupled modeling between social and physical systems.
More information about the testbed and the field study can be found in these publications:
van de Lindt, J. W., Peacock, W. G., Mitrani-Reiser, J., Rosenheim, N., Deniz, D., Dillard, M. K., Tomiczek, T., Koliou, M., Graettinger, A., Crawford, S., Harrison, K. W., Barbosa, A., Tobin, J., Helgeson, J. F., Peek, L., Memari, M., Sutley, E., Hamideh, S., Gu, D., Cauffman, S. A., and Fung, J. F. (2018). The Lumberton, North Carolina Flood of 2016: A Community Resilience Focused Technical Investigation. https://doi.org/10.6028/NIST.SP.1230

Van De Lindt, John W., Walter Gillis Peacock, Judith Mitrani-Reiser, Nathanael Rosenheim, Derya Deniz, Maria Dillard, Tori Tomiczek et al. "Community resilience-focused technical investigation of the 2016 Lumberton, North Carolina, flood: An interdisciplinary approach." Natural Hazards Review 21, no. 3 (2020): 04020029.https://doi.org/10.1061/(ASCE)NH.1527-6996.0000387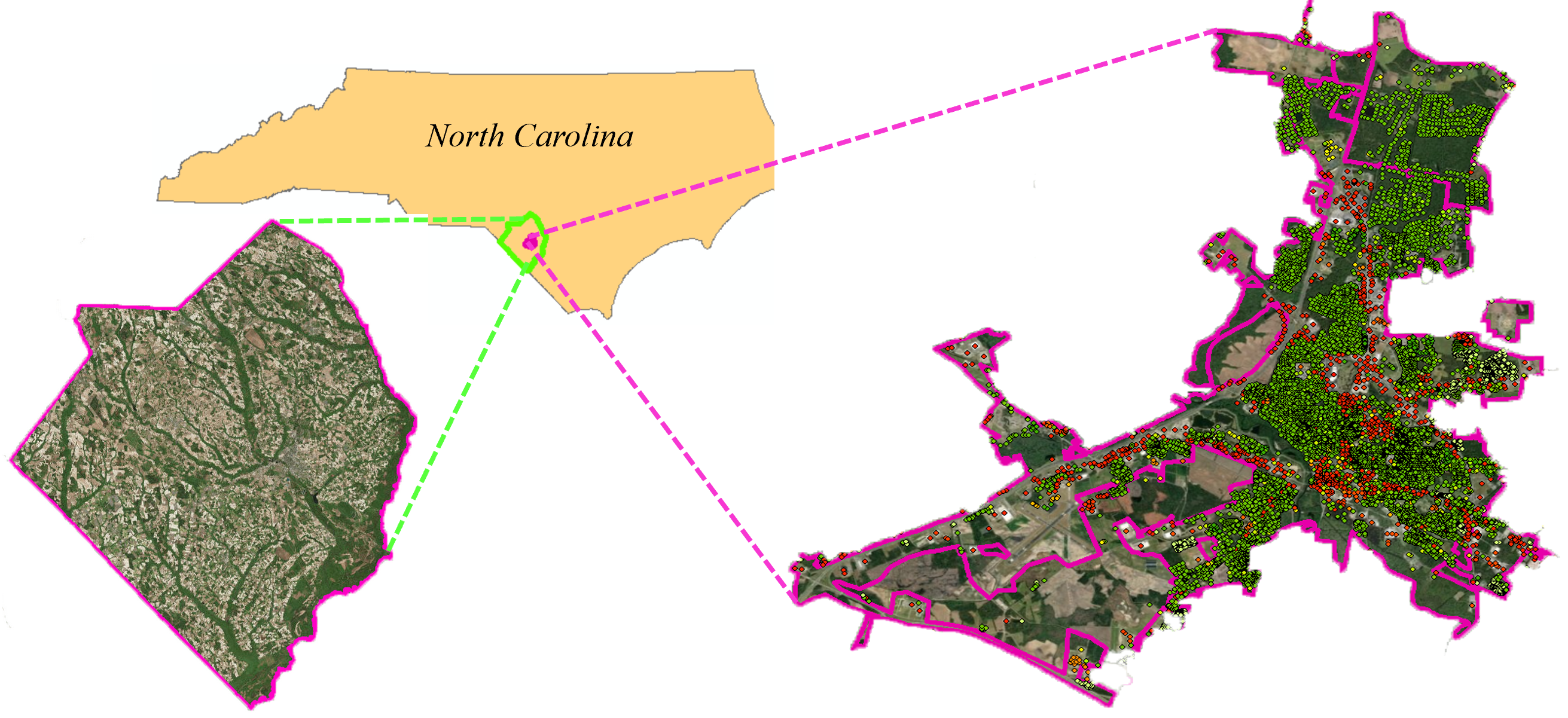 The current notebook is a WORK-IN-PROGRESS that consists of the following modules:
Flood Hazard Modeling for inland communities.

Flood Damage Analysis for Buildings.

Household Unit Allocation Modeling.

Population Dislocation analysis based on Hurricane Matthew in 2016.
The models used in this testbed come from:
Omar M. Nofal, and John W van de Lindt. 2020. "Probabilistic Flood Loss Assessment at the Community Scale: A Case Study of 2016 Flooding in Lumberton, NC." Journal of Risk and Uncertainty in Engineering Systems, Part A: Civil Engineering, 6(2):1-15 https://doi.org/10.1061/AJRUA6.0001060

Omar M. Nofal, John W van de Lindt, and Trung Q. Do. 2020. "Multi-Variate and Single-Variable Flood Fragility and Loss Approaches for Buildings." Journal of Reliability Engineering and System Safety, 12(8), 2277 https://doi.org/10.1016/j.ress.2020.106971

Omar M. Nofal, and John W van de Lindt. 2020. "Minimal Building Flood Fragility and Loss Function Portfolio for Resilience Analysis at the Community-Level." Water, 12(8), 2277 https://doi.org/10.3390/w12082277

Omar M. Nofal, and John W van de Lindt. 2020. "High-Resolution Approach to Quantify the Impact of Building-Level Flood Risk Mitigation and Adaptation Measures on Flood Losses at the Community-Level." International Journal of Disaster Risk Reduction. https://doi.org/10.1016/j.ijdrr.2020.101903

Omar M. Nofal, and John W van de Lindt. 2021. "High-Resolution Flood Risk Approach to Quantify the Impact of Policy Change on Flood Losses at Community-Level." International Journal of Disaster Risk Reduction. https://doi.org/10.1016/j.ijdrr.2021.102429

Rosenheim, Nathanael, Roberto Guidotti, Paolo Gardoni & Walter Gillis Peacock. (2019). Integration of detailed household and housing unit characteristic data with critical infrastructure for post-hazard resilience modeling. Sustainable and Resilient Infrastructure. https://doi.org/10.1080/23789689.2019.1681821
Note: The building inventory used for building damage analysis has a smaller geographic boundary when compared to the housing unit inventory. This is because the building inventory used for the damage analysis above includes the buildings that are exposed to modeled flood hazard for the primary study area (Lumberton, NC). However, the housing unit inventory used for the household allocation includes all of Robeson County.
The differences between the building inventory and the housing unit inventory is the reason for the missing (NaN) damage state values in the table at the end of the chapters 3 and 4 where the address points are associated with the buildings outside the building inventory footprint. While these address points are outside of the modeled hazard boundary, which explains that all DSs are equal to NaN, they are important for further socio-economic analysis such as identifying the indirect flood impacts on the population outside the study area.
Prerequisites#
The following modules are necessary to run this notebook. To ensure dependencies are correct, install all modules through conda.
| Module | Version | Notes |
| --- | --- | --- |
| pyIncore | =>1.3.0 | see: https://incore.ncsa.illinois.edu/doc/incore/install_pyincore.html |
| pyIncore_viz | =>1.5.0 | see: https://incore.ncsa.illinois.edu/doc/pyincore_viz/index.html |
| matplotlib | 3.1.2 | used for plotting results |